Our Favourite Collaborations With Interior Designers
---
Over the past ten years, I've very much enjoyed getting to know our clients through our very hands on, personalised approach to bringing you the finest quality hand made, bespoke bedroom furniture.
However, it would be remiss of me not to acknowledge our wonderful collaborations with Interior Designers too. These talented creatives who have helped bring many clients bedroom dreams to life have often inspired me along the way!
I love this quote by Meredith Heron on her role as an Interior Designer… "I see myself as a storyteller… but instead of words I use fabric, furniture, architectural items and personal items."
And that is exactly what the incredible designers below do… bring the story of a room to life. I asked each to share some of their thoughts/stories and favourite work featuring Heatherly Design pieces…
---
Steve Cordony
Steve Cordony has worked across a range of areas in the design industry, where his talent and expertise has seen him create stunning events and interiors for both personal and corporate clients.
It was such fun hosting an evening with him last year at our Sydney Showroom. Guests were truly inspired by Steve's wonderful tips. I can't wait to see his Rosedale Farm bedrooms come to life!
"Having worked with Georgie for some editorial projects at Belle, I was delighted to be invited to present a styling workshop in Sydney. Georgie is so 'on it' and always makes my last minute requests happen within the blink of an eye. We are working on some pieces for our farm at the moment, which I feel sorry for Georgie as I can never make a decision when it comes to my place!! But I'm in good hands."
Catherine of The Stables
One of our oldest and dearest clients, Catherine of The Stables is almost family!
Her passion for styling is evident as she breathes life into every project with smart and simplistic styling solutions. Catherine creates spaces that have a sense of light and warmth, and places importance on lasting interiors that will become part of her client's story at home.
"I have used Georgie right since the beginning, it would be close to ten years ago now since I first put one of her beds in my projects. I use Georgie for all of my upholstered beds – their attention to detail and level of quality is second to none. I know I can always trust that the beds are going to look amazing and I never have to worry about quality.
I am a big believer in Australian design and Australian made, the quality is always far superior and it is for this reason that I first started using Georgie. I love that I can get on the phone and talk through each job with Fiona and Georgie, they will always work through all the finer details with me. What I really love is that Georgie will actually pull me up if I ask for something and she does not think it will work from an aesthetics point of view.
I love that she cares so much about what the end design will look like.that she will tell me what proportions are best for my job, its so bespoke. This gives Georgie the edge in my opinion. The whole team is an absolute pleasure to work with and I look forward to doing many more beautiful bedrooms together in the future!"
Rebecca of Space, Grace & Style
Rebecca of Space Grace & Style specifies such incredible fabrics and the conceptual use with bedhead design always sing. Known for effortlessly combining crisp, clean architecture with thoughtful and detailed interiors. She has a passion for natural materials, and the inherent beauty and authenticity they bring to spaces. Combined with custom Heatherly upholstery and a love of contemporary art, she creates casually elegant spaces that are warm, comfortable and very liveable.
"It was a client who originally told me about Heatherly Design, and who in the course of the renovation had stipulated she wanted a Heatherly bedhead – the design of course was up to us! That was the first of many and if I recall correctly, there were two buttoned foot stools in that bedroom as well – a gorgeous project.
We've since pushed the boundaries in all areas – in the designs and also use of fabric, trims, leather and size. Most of our bedheads are custom design and sizing and nothing has ever really baffled them.
We're always delighted with the attention to detail and no fuss attitude which is a hallmark of Heatherly Design, and it's the reason we keep working with Georgie.
Below is Curlewis House – this one nearly didn't fit up the stairs… where there's a will there's a way!"
Julia Green of Greenhouse Interiors
Julia wears many hats as the founder of Greenhouse Interiors. An Interior Stylist, Writer and Producer to name just a few, I love her fearless approach to styling. The way she pushes the boundaries continually inspires and I'm always in awe of the schemes Julia puts together.
"Ive been loaning Heatherly bedheads for magazine shoots for a long while now, so when the opportunity arose to shoot 4 of them in a row for the actual brand, I jumped at it. The quality of materials, the luxe textures, the craftsmanship, the 'can-do' approach to all are just some of the reasons why this business has gone gangbusters.
Georgie has a keen eye for style, and knows what she likes, and most importantly, what her customers like. I admire her confidence. I think its fair to say Georgie's new products are on pointe, and it was so great to see our styling and interpretation of the brief so well received by the media and Georgie's customer base. A very successful collab!"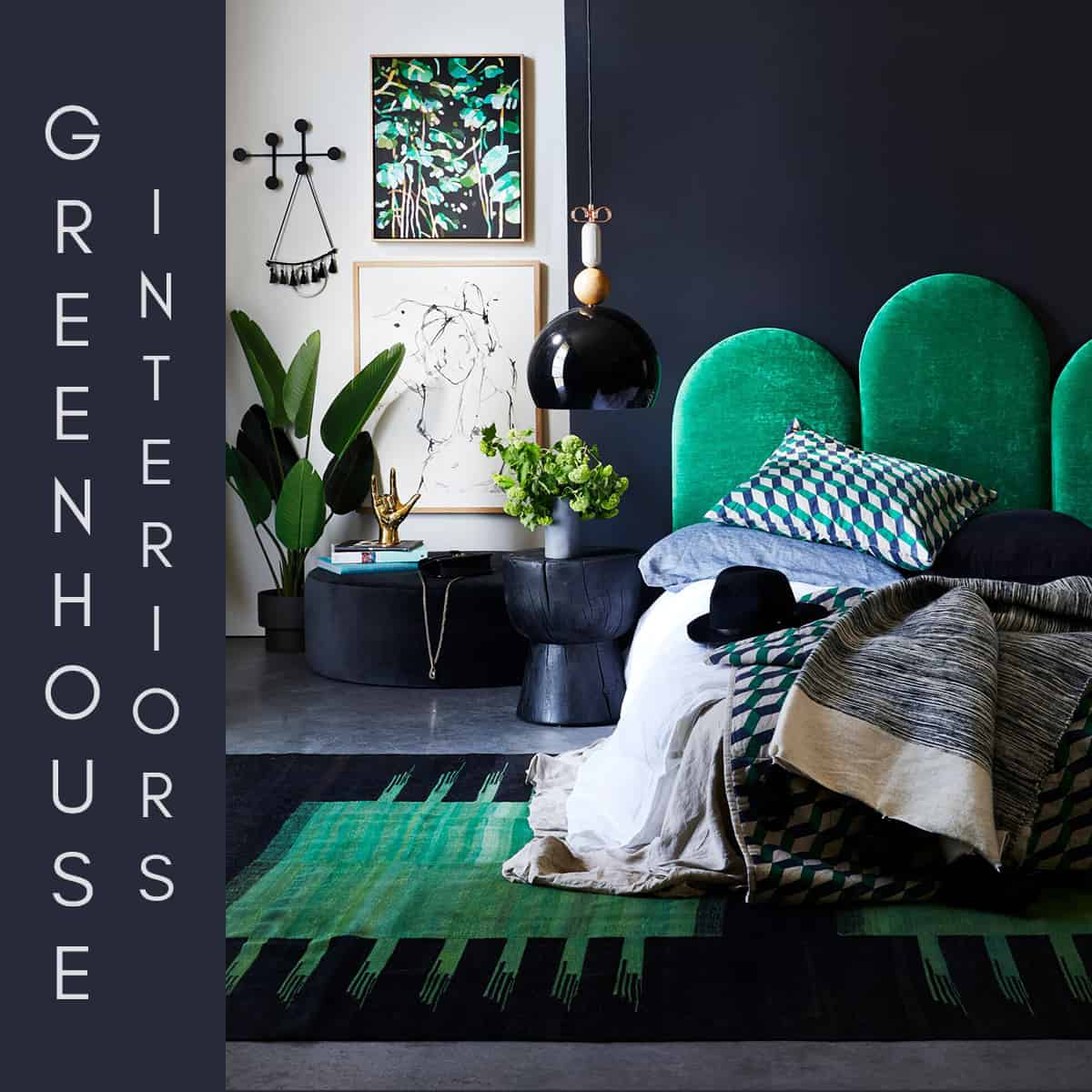 Ioanna Lennox
I've enjoyed working with Ioanna Lennox over the years – she is the master of layering lots of textures in the bedroom. Renowned for beautiful, evocative residential interiors, the design studio's passion for exceptional quality.
"There is a funny story behind this: I showed our client a stunning leather bed on the initial concept board for the master bedroom, which he fell in love with and wanted to get it. Alas, the bed was a custom piece from Italy with a $12,000 price tag and a 20+ week lead time! Enter Heatherly Designs; after a long conversation with Georgie, I knew we could do something similar. We found an incredible, soft and durable 'leatherette' in a deep charcoal that incidentally Volvo use for the seats in their top models, and we kept the bedhead classically tufted, while the surrounding frame sat directly on the floor. The end result was better for that room than the Italian bed my client fell in love with.
This room also won House & Garden Top 50 Rooms 2017 and has been featured in Belle magazine in Feb/Mar 2018."
Brendan Wong
It's always a pleasure seeing what fabrics and designs this innovative design firm, Brendan Wong, specify. I also love their ethos of bringing clients an elegant aesthetic with a functionality that transcends the years. Something we aspire to at Heatherly as well.
"Working with Georgie and her team is a satisfying collaboration. Georgie is often forthcoming with considered suggestions on how a bed might be improved, rich with experience and expertise. Her teams care with luxurious fabrics is immaculate because they appreciate beautiful textiles.
Happy 10th Birthday Heatherly! From Brendan Wong, the team at Brendan Wong Design and all our satisfied clients."
Doherty Design Studio
The approach by Doherty Design is truly inspiring with a focus on authenticity and socially aware design. It has been a delight to see the stunning results of our collaborations with the studio.
"We often use upholstered bedheads in bedrooms to soften the space and add another layer of texture. We are drawn to using Heatherly because of their stunning range & various options, and also the quality of the product."
Tanya at Royale Construction
Classically-inspired contemporary homes are Royale Construction's speciality. Tanya and her clients are passionate about velvet and deep buttoning. I adore how incredibly luxurious and opulent her bedrooms are.
"Georgie and her wonderful team have been so great to work with over the years. From the moment that I contacted them they have provided a seamless service and quality product. Even the delivery guys and installers are cheerful. My clients have always been exceptionally happy with their beds."
Aimee of Your Abode Design
It's always a joy collaborating with Aimee (and having a little chat too). She has a sophisticated style that marries perfectly with Heatherly Designs.
B – Beautiful
I – Inspirational
R – Respected
T – Trend setter
H – Heart
D – Designer
A – A mother
Y – Yes Heatherly is the best!
"Georgie has always been at the other end of my call with time for a chat, encouragement, advice & inspiration. Thank you for all you've done for the industry and for every bedroom that is graced with your quality of workmanship and style xx"