Autumn/Winter '19 Colour Trends
As the Autumn leaves fall and the temperature drops, the cooler months are the perfect time to retreat to the warmth and comfort of the bedroom. This season sees calming earthy tones with inspiration drawn from our lush forests, arid deserts and deep blue waters. Autumn/Winter '19 colour trends feature a bold yet natural and organic palette. Rich yet muted colours create an earthy and relaxing feel. Layer rustic, warm and sophisticated tones such as marigold, wheat, olive, navy, ash, cinnamon, coffee and dusty blush.
We are excited to bring you new offerings in these popular bedhead designs dressed in textural eco friendly fabrics. Plus the perfect pairings to these bespoke bedheads. Luxe modern side tables and footstools to create a cosy sanctuary on Winter nights.
The Armelle Bedhead
This season the exterior world is welcomed into the bedroom with natural fibres and accessories like oak side tables. Celebrate the simplicity of nature with organic design elements. Such as the natural movement on the flanged edge of the Armelle bedhead and the wood grain of the Oxley side table.
The Finley Bedhead
Make a statement that lasts a lifetime with our bordered bedhead. Our handsome Finley bedhead design is born from our ever so popular Bailey and Sackville bedheads. With a clean sewn panel detail for the risk-takers, dreamers and lovers of clean classic lines.
The Lincoln Bedhead
Evoke a feeling of relaxation with this redesigned bedroom retreat. Focusing on soothing colours and tactile fabrics to promote a calm bedroom sanctuary. With its clean, contemporary lines, the Lincoln bedhead complements any interior style, and appeals to all. Pair with the Hendrik side table is the ideal handcrafted, sustainably made piece to be treasured by generations to come.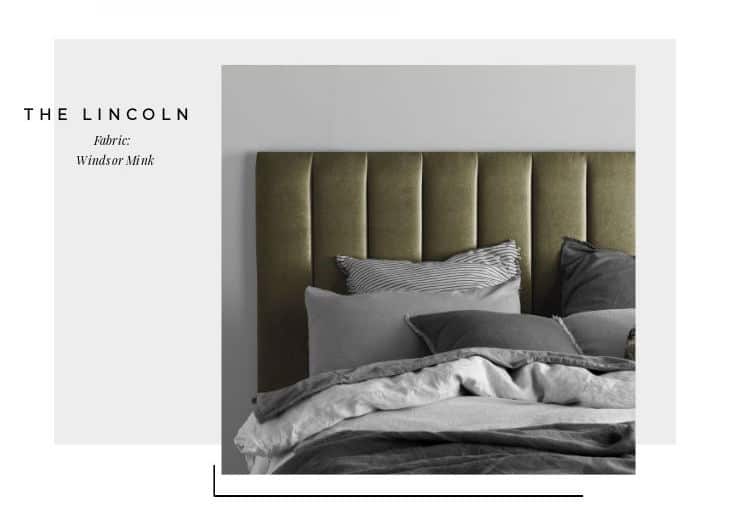 The Oslo Bedhead
Transform the bedroom into the most luxurious private retreat with our Oslo bedhead and Mercer footstool dressed in opulent velvet. The elegant, moody colours reinforce the contemporary beauty of these designs.
We hope to have inspired you with our easily accessible pairing and colour guide. With the season's most exciting Autumn/Winter '19 colour trends, what's not to love?
Let us help you achieve the most serene look and feel for your home. Book your complimentary consultation herehttps://heatherlydesign.com.au/design-support/showroom-bookings/ and let one of our expert designers help create the room you've been dreaming of.