Goodnight Series with Georgie Leckey
Welcome to our new Heatherly Goodnight Series, where inspirational members of our community share their night-time rituals and reflect on their relationship with sleep.
 Working intimately with bedroom spaces, Heatherly are more attuned than most to the fact that sleep is playing an increasingly significant role in our pursuit for holistic wellness. We often wonder how other people unwind from their daily stresses and what rituals and routines matter to them in order to achieve effortless and refreshing rest. So we went ahead and asked them so you can learn new tips and tricks, too.
To launch the series, and ahead of Mother's Day, we couldn't think of anyone better than our Heatherly founder Georgie Leckey, to share her favourite ways to slow things down before bed.
Life is a delicate juggling act for Heatherly founder and director Georgie Leckey. The mother of two and passionate businesswoman is well rehearsed in keeping multiple plates in the air, but she also knows that one of the greatest keys to success lies in how you manage your down time.
For Georgie, who has dedicated over a decade to designing bedroom furniture, bedtime is the best time.
So, we have asked her to share how she has made her own bedroom the ultimate restorative sanctuary as well as the self-care routines she embraces every night to ensure she is ready for whatever life throws at her.
How important is the role of the bed in our ability to soothe our muscles and our minds?
A good bed really shouldn't be underestimated as an important form of self-care.
My bed absolutely reflects my personality and taste, which is why retreating to the bedroom of an evening feels so calming and nurturing.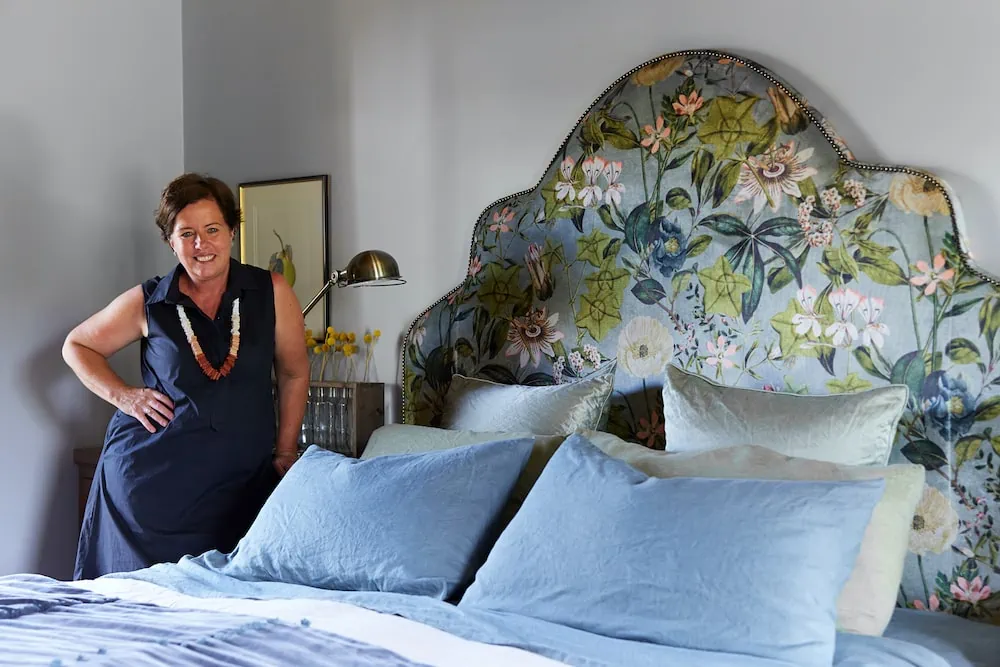 How have you made your bedroom your personal sanctuary?
I have always been a blue girl, so my bedroom, bed linen and bedhead is a mix of moody blues and vivid greens that reflect our garden — which can be seen through every window of our bedroom and brings me so much joy.
My bed styling is a considered layering of velvet, pure linen and cashmere. It's taken me a long time to embrace using a top sheet, but I have come to appreciate the flexibility it offers, both in varying temperatures and also in adding contrast to the styling.
My husband and I have always been geared to an ensemble base, but I disguise the base with a custom Heatherly valance as it hides the ugly legs and gives the impression that the base is upholstered.
Do you rely on any products to help you wind down?
We produce Two Rivers Green Tea on our family farm in the Acheron Valley. We have taken the finest green tea plants from Japan and nurtured them from small cuttings to create the established thirty acre tea plantation that we have today. I love green tea in the evening as it is ultra-calming and the perfect reward for a busy day of multi-tasking.
My girlfriend also gave me REN & Now to Sleep pillow spray which is really special. And I might be showing my age here, but I am very particular about my pillow. Ecosa have the most incredible pillow that is contoured to your head and neck.  I don't know how I will be able to sneak it in my bag when we travel next, but it is certainly worthy of trying. I also keep a hand cream and night cream on my nightstand.
What are some of your other nighttime rituals?
I normally retreat to the bedroom at about 9pm, and regularly use that time in bed to either call my children who are away at school, journal my thoughts for the next day and make some lists of things I need to do or want to achieve. I also like to read in bed and am currently reading Tangerine by Christine Mangan.
Our new kitten Winston is developing a nighttime ritual of his own at the moment, by settling himself at the end of our bed on a velvet throw. Max the Jack Russel and our lab Monty also retreat to our bed often.