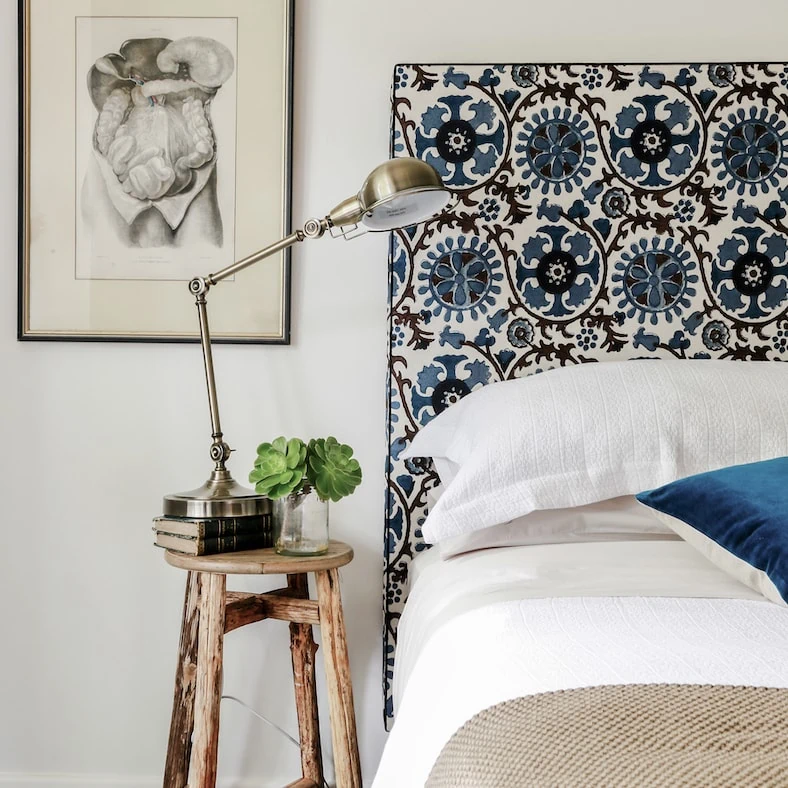 2021 Bedroom trends
Which 2021 bedroom trend are you: Cottagecore, Grandmillenial, Japandi or Friluftsliv?
At Heatherly, we believe that good design should last a lifetime, not just a season, with timelessness and quality craftmanship always trumping fashionable fads and trends. But that doesn't mean you can't incorporate our styles into the design influences of 2021. Best of all, these growing trends translate beautifully into our bedrooms for sleep spaces that also offer a sanctuary to unwind from our daily stresses. Here are four of our favourite trends we are looking forward to seeing more of, and how to get the look, the Heatherly way.
COTTAGECORE
What is Cottagecore: 
While this trend technically took off in 2020, expect to see a lot more references to "cottagecore"— a calming aesthetic that romanticises rural lifestyles. A celebration of simpler times — and the desire to escape to the country — the trend encompasses everything from abundant veggie patches and flowing white lace dresses to fluffy farm animals and baking crusty pies to cool on windowsills overlooking sun dappled fields. 
How to build a Cottagecore bedroom:
Devotees of this look have given rise to everything from floral wallpaper to shabby chic furniture. 
For a more timeless take on the trend, we recommend sticking to a clean, pastel palette, such as sage greens, blush pinks, grey and antique white. While floral bed heads can certainly help you feel like you have been transported to a twee countryside cottage, our pick to get the look is our Astor Bed Head. Not only is the ikat braiding a subtle nod to the lace trims synonymous with cottagecore fashion, but the clean silhouette means it can be styled to reflect a number of aesthetics, making it a versatile investment beyond the cottagecore craze.
To complete your cottagecore bedroom charm, consider some simple details which, when styled together, create an impactful cottagecore aesthetic such as a hand-crochet rug draped at the foot of the bed; leather bound books from the op shop stacked on your dresser or bedside, dried meadow flowers in a vase and lots of flickering candlelight. 
Left: Piper Bed head in Trench leather (image source: @oldschoolhousemilton via Instagram) , Right: Astor bed head in Aramon Willow linen.
GRANDMILLENIAL
What is Grandmillenial style: 
A portmanteau of 'grandmother' and 'millennial', this trend is full of nostalgia and harbours a fondness for 'old fashioned' looks that are rooted in the familiar, such as floral wallpapers, wicker furniture, coloured glassware, pleated lampshades, ruffled linens, needlepoint cushions, blue and white ceramics, and chintz-everything.
A more refined version of "granny chic", this endearing trend takes a dash of our grandparent's style sprinkled with sleek lines and contemporary details to mix the old with the new to striking effect.
How to incorporate Grandmillenial style in the bedroom:
The goal here is that you want it to look nostalgic, without looking kitschy. One step too far and you risk looking more grandma than grandmillenial. Importantly, the grandmillenial style is about uniqueness—styling so-called dated or traditional pieces in new and original ways while rejecting overly minimalistic or directional design that has dominated in recent years. 
To set the tone, and reference the chintz fabrics of the era, we suggest opting for a bold floral bed head. We love the character and charm of our Ralston Bed head in Cezani Indigo linen.
For balance, steer clear of frilly bedspreads, and instead opt for clean, modern linens and cushions to still achieve tasteful comfort, without the cringe.
Grandmillenial also allows for plenty of layering, and (organised) clutter, so play with texture such as woven rugs, upholstered chairs and footstools, an assortment of ornately framed artwork and mirrors, blue and white china vases filled with big blooms and plenty of colourful knick-knacks to create a cosy space.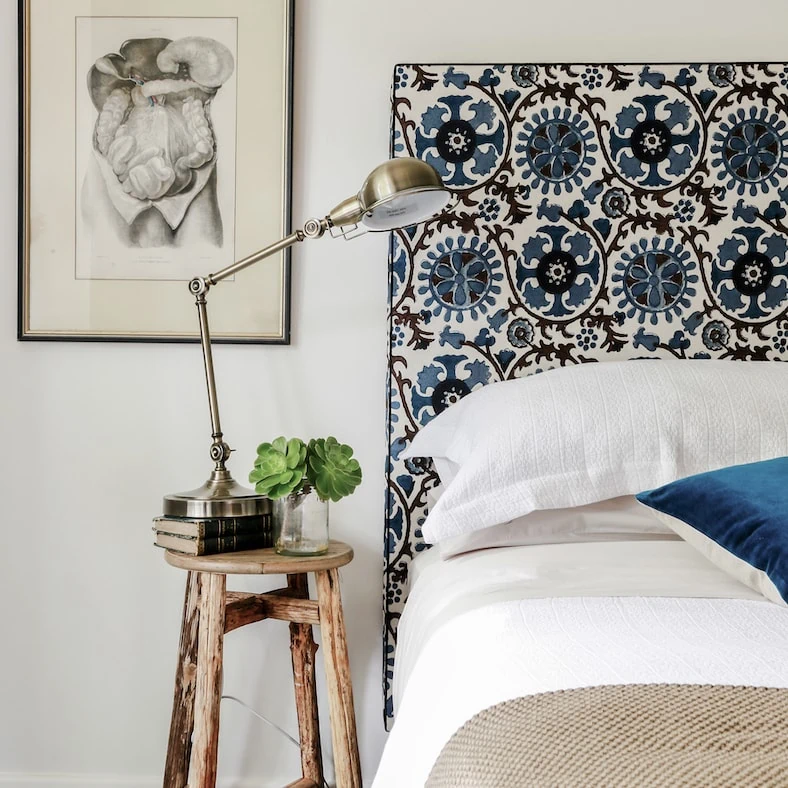 Left: Ralston Bed head in Cezani Indigo linen, Right: Stella Bed head in clients own fabric.
JAPANDI
What is Japandi style: 
Proof that sometimes two styles can be better than one, the Japandi trend — which fuses Scandinavian minimalism with the timeless elegance of a Japanese aesthetic —is a modern design trend that continues to gain pace.  Embracing the best of both worlds with a focus on functional design and high quality craftmanship, Japandi also incorporates clean lines, soft hues and a mix of natural materials to effortlessly create serene living spaces. 
How to build a Japandi style bedroom:
To create a bedroom steeped in Japandi style, restrained elegance is the key to inspire deep rest. With both Japanese and Scandi style formed on the foundation of minimalist design principles, every corner of your bedroom should be carefully considered and curated to create calming vignettes and uncluttered visuals.
With an emphasis on natural elements, it's hard to go past the tactile fibres of an upholstered bed or bedhead in crisp linen. Our Rupert design, which is available in customisable bed heads, readymade bed and even a reversible bed head, features a contemporary flanged edge that echoes the simple clean lines of the Japandi trend.
A muted colour palette in natural hues and sheer drapes that allow the natural light to filter in will also bring warmth to your space while décor such as handmade pottery, terracotta, wood and plants are also a Japandi must.
Armelle bed head in Linden Ivory linen (top) Image source: @condradarchitects via Instagram, Louis bed head in Cosmo Brass velvet (bottom right) Image source: @claudiastephensoninteriors via Instagram, Rupert bed head in Canterbury Alloy linen (bottom right) Image source: @thestables_ via Instagram.
FRILUFTSLIV
What is Friluftsliv:
 Move over Hygge, there is a new buzzword in the designer realm. Pronounced "free-loofts-liv," Friluftsliv is a Norwegian way of life that centres on spending time outdoors. And with much of 2020 spent inside our hygge-filled homes, it makes sense that this trend, which roughly translates to "outdoor life," is predicted to be one of the top trends of 2021. The underlying philosophy of Friluftsliv can still be translated indoors however, with interiors and accents that give a nod to nature.
How to incorporate Friluftsliv in the bedroom:
Believe it or not, it is possible to reconnect with nature without being in the open air. From artwork of landscapes and scenery to natural textures such as jute and wooden elements and even scented candles that transport you to the great outdoors.
When it comes to your bed, we suggest keeping it simple and sophisticated by incorporating a rich, earthy colour palette drawn from nature. Look to deep, leafy greens, soothing shades of tan, nutty browns and rustic hues of clay, putty and amber. We love our Armelle bed head in Willow Mustard.
Left: Armelle Bed head in Willow Mustard, Right: Rupert Bed head in Geneva Glacier Velvet.