Bedroom style solutions: bed head frequently asked questions
When it comes to designing the bedroom retreat of your dreams — complete with the perfect bed head — many factors play a role.
But regardless of ceiling height, window placement, room size or location, every bedroom is full of design potential and our team of interior designers are here to help guide you in creating a bespoke bedroom that best compliments your individual style and space.
To help get you started, we asked our Sydney Showroom interior designer, Vanessa, to answer some of our most frequently asked questions.
How do you best decide on the height of the bed head? 
It is very important for the bed head and bed base to be in proportion to itself. At Heatherly Design we will recommend what the finished height of the bedhead should be based on your sleeping height and the design of the bed head, so the finished bed is beautifully proportioned. 
Remember, there are many elements when decorating a room. For example, if you have got high ceilings, the bed head doesn't have to fill the whole space (unless that is the look you are trying to achieve). You can use artwork or pendant lights to also fill the area. 
The lowest a ceiling can be in a bedroom is 2.4m. If your ceiling is low, there is nothing stopping you having a high bed head but I wouldn't recommend placing artwork above it. (For more on this, see the next question) 
Oslo Bed in Ellison Peacock Velvet (Melissa Redwood Interiors)
Which is the best bed or bed head for a small bedroom? 
When working with a small space it is essential to consider the different dimensions of the room. 
It's important not to fill the horizontal planes, but allow more of the vertical space to be seen. Imagine a huge box in a room where its height goes 3/4 up the wall. Now, imagine the same box but its height now goes 1/4 up the wall. The floor space taken up by the box doesn't change but the amount of vertical space it consumes is reduced. 
The lower box height gives the room a more spacious feeling. This same principle can be applied to our beds. 
Don't let working with a small bedroom limit your design potential. If you want a high bedhead, just don't place any artwork above it (consider a side wall) as it will make the space look and feel cluttered. Simplicity is the key. 
A comment I hear a lot from our clients is wanting 'a streamlined bed base' — one that doesn't dominate the space and does not intrude on the available area within the room. 
Our floating bed bases are perfect for a small bedroom. They have simple, clean lines and sit low to the ground. 
Bed bases that sit above the floor give the illusion of more space. It is important for the mattress not to be high as well. Having a sleeping height of 600mm is optimal. 
Lincoln Bed in Turin Crystal Velvet
Should I consider my home's location and climate when choosing a fabric?
I don't like placing limitations on fabric, based on trend or geographical positioning. There is nothing to say that velvet can't work in a coastal setting, or linen won't work in cooler climates. Both fabrics can be incredibly versatile.
We always assist in making the fabric choice work within a unique space. Velvet is a common fabric that many clients have preconceived ideas on its usage. However, velvet comes in many different textures and there will be one that will suit any environment. 
If a client is open to anything, I will then start asking questions to understand the look and feel they would like to achieve in the bedroom as well as who is using the room and if there is direct sunlight. Fabric can look different depending on the style of the bedhead and these are things we discuss during our complimentary consultations.
Rupert bed head in Ellison Cornflower velvet
How to best clean your bed head?
Our range of fabrics is carefully chosen based on durability and longevity.  All Heatherly Design bedheads will stand up to reasonable wear. However, like anything, it is important to keep your bed head free from dust. Most people are unaware that mould feeds off dust which is a combination of skin, dust mites, clothing fibres, plastic particles etc. 
You may clean your bedhead on a low suction setting of a vacuum cleaner with a small brush attachment, or you can use lint roller. We do not recommend using spot cleaners and if you require professional cleaning, you should use only cleaners that specialise in upholstery. In relation to leather, you can care for it with a professional leather conditioner to maintain its appearance and longevity.
How do the bed heads sit against the wall?
Our bedheads come with L shaped metal legs which ensure the bedhead does not need to be mounted to the wall or mattress base.  The L shaped designed legs allow for a skirting board depth of 25mm and sit in behind the mattress holding the weight of the bedhead and resting it securely against the wall.  There is an option to attach a wall mounting bracket to the back of a bedhead but from our experience, the legs are by far the simplest option for installation. 
Astor bed head in Willow Aramon linen
How can I add extra storage to my bedroom?
If you are short on storage, why not consider a gas lift bed —the unsung hero of storage.  Raising the bar (quite literally) in innovative bedroom design, the hidden storage is easily accessible with a simple lift of the mattress. Our gas lift bed base design not only fuses form and function but can also be personalised with over 40 bed head designs and more than 100 fabrics to choose from, so you can co-ordinate your bed base with your bedhead to create a seamless full bed.
Our Gas lift bed base featured here with the Oxford bed head. Customise our Gas lift bed base with your choice of fabric and bed head style.
Are any beds available without the wait?
All of our custom designs come with a 6–8-week lead time, however our ready-made collection is ready to ship now. 
You can choose from the Rupert bed in Asphalt linen or Husk Ice linen, or the Bonnie Boucle bed in Ivory or Frost grey. All are available in both King and Queen sizes.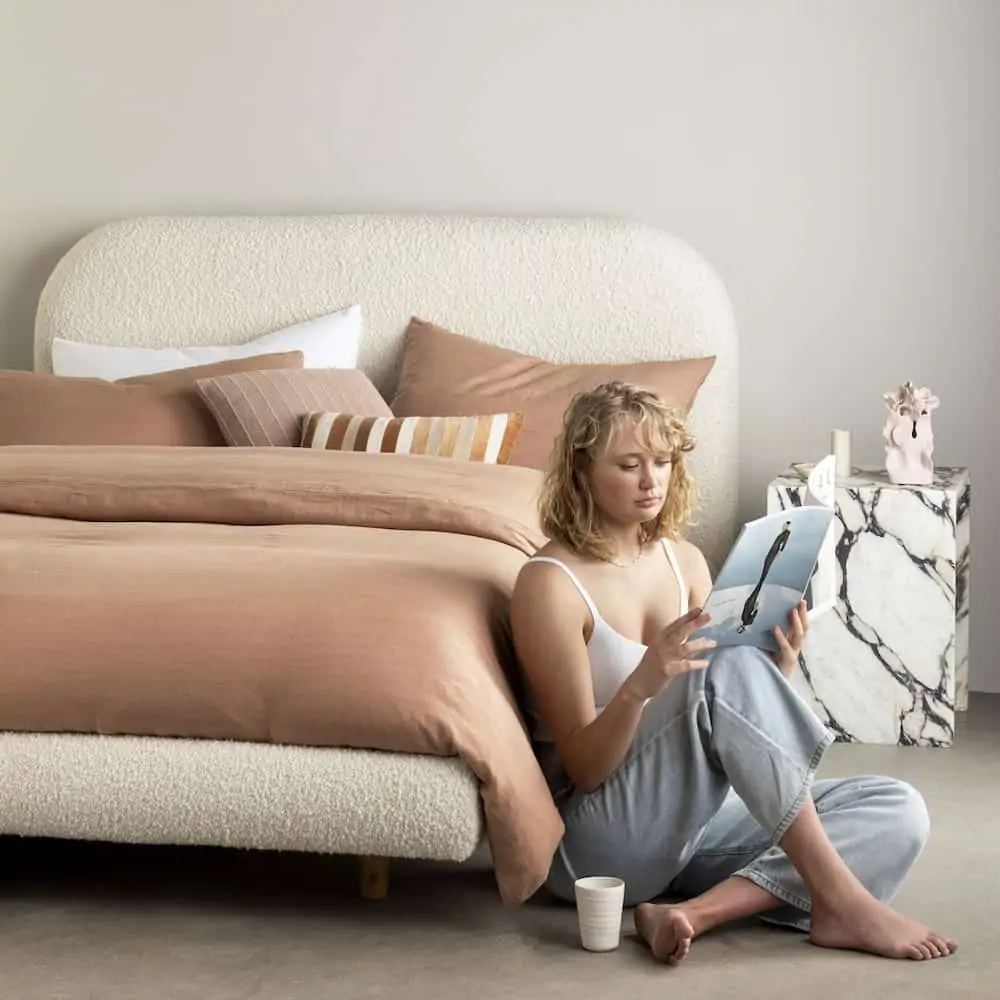 If you have any more questions or would like to get in touch for a complimentary consultation with one of our interior designers, please get in touch here.