Lean into a new era of luxury with premium faux leather
For more than 14 years, Heatherly Design have been crafting beds to suit every space, taste and lifestyle.
 

But across the globe, a shift in style is emerging as our relationship with our homes and the way we live continues to evolve, as well as our attitudes towards the environment.

More than ever, the pieces we choose to invest in, reflect our way of living. From plush velvet to the tactility of boucle and textured linen, each upholstery fabric has its own unique offering, which is why Heatherly wanted to expand their own contribution for the thoughtfully stylish. 

With that, meet Maxwell, a premium faux leather design for the future.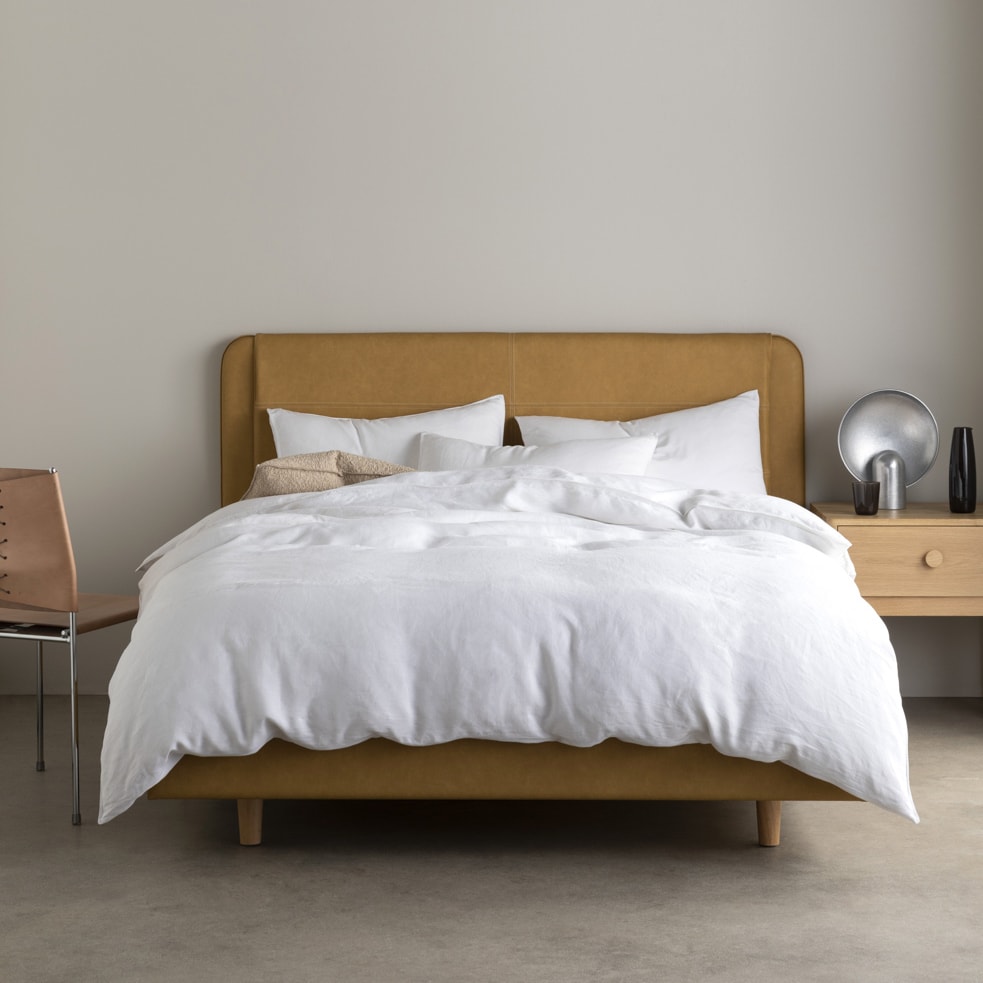 Still anchored by the Heatherly commitment to craftsmanship and enduring quality, Maxwell combines leather-look luxury with rich colours and modern lines to make an impact in any space it's placed. 
Taking its cue from the minimalist sophistication of world-class hotels, the ready-to-ship design exudes a jet set charisma and charm, while bringing modern design to the forefront.
Available in two versatile, vegan-friendly shades of stone and tan, an additional overlayed cushioned panelling piece — finished with a contrast white saddle stitch detail —highlights the subtly curved silhouette.
For Heatherly Founder, Georgie Leckey, the latest design ushers in a new era for faux and encourages clients to welcome a rich material that will bring depth to the bedroom.
"Expanding on the overwhelming popularity of our Ready-Made Collection, which includes the linen wrapped Rupert bed and our Bonnie bed in boucle, a leather-concept was the missing texture," she says.
"Longevity was paramount with this design, and it was hard to ignore the performance highlights of premium faux leather."
With permanent stain protection and abrasion resistance, Heatherly's luxury faux leather is also easy to clean and waterproof.
"The surface durability means Maxwell can withstand wear and tear which increases the lifespan of the material, so you can rest easy knowing your bed head will maintain its lustre for years to come," Leckey says.
With an increased focus on sustainability and responsibility, faux leather is also a viable – and desirable – animal-free alternative for interiors. 
"Quality is at the heart of every Heatherly design, and we have spent months refining this design to create an exclusive, faux leather piece that was just as stylish and covetable as its leather counterparts."
"Our commitment to innovation has led us to develop what we believe is the best faux leather bed design on the market and we can't wait for you to experience it."
+ Shop Maxwell in stone faux leather +
+ Shop Maxwell in tan faux leather +
+ Book a design consultation +